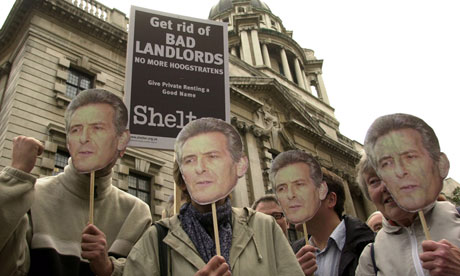 Shelter supporters demonstrate against bad landlords, London, 2002. Photograph: Johnny Green/PA- written by Kay Boycott
It is unlikely to come as a surprise to readers of the
housing network
that the private rented sector is growing exponentially, by more than 40% in the past five years. Less understood is the corresponding rise in rogue landlords taking advantage of this boom, landlords who blight the lives of
tenants
living in their properties.
Last week Shelter launched the latest phase of its
evict rogue landlords campaign
. We contacted every local authority in England to build a picture of both the scale of the problem with rogue landlords, and what is being done to tackle it.
The results showed that across the country complaints about landlords had reached a staggering 86,628 in the last year. Yet despite the sharp increase, only 270 landlords were successfully prosecuted during that period.
Of particular concern is that complaints about serious and potentially life-threatening hazards, including dangerous gas and electricity connections, have risen by 25% over the past two years.