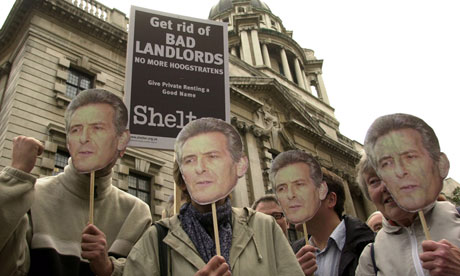 Shelter supporters demonstrate against bad landlords, London, 2002. Photograph: Johnny Green/PA- written by Kay Boycott
It is unlikely to come as a surprise to readers of the
housing network
that the private rented sector is growing exponentially, by more than 40% in the past five years. Less understood is the corresponding rise in rogue landlords taking advantage of this boom, landlords who blight the lives of
tenants
living in their properties.
Last week Shelter launched the latest phase of its
evict rogue landlords campaign
. We contacted every local authority in England to build a picture of both the scale of the problem with rogue landlords, and what is being done to tackle it.
The results showed that across the country complaints about landlords had reached a staggering 86,628 in the last year. Yet despite the sharp increase, only 270 landlords were successfully prosecuted during that period.
Of particular concern is that complaints about serious and potentially life-threatening hazards, including dangerous gas and electricity connections, have risen by 25% over the past two years.
Rogue landlords operate under the radar and are incredibly difficult to monitor. But our research showed that local authorities were aware of 1,477 landlords who were continually giving them cause for concern and repeatedly making tenants' lives a misery. We believe the true figure is likely to be even higher than that.
Local authorities do have the powers they need to tackle rogue landlords and our research uncovered some excellent examples around the country where councils are addressing this issue head on. In Newham, for example, the council runs a joint enforcement programme involving the police and border agencies, and licensing areas are used to tackle pockets of problematic private rented accommodation. Oxford city council has introduced cost-neutral licensing to bring evasive rogue landlords within their reach, while in Sheffield the council works to build a positive relationship with good local landlords so they can prioritise tough action against the worst.
Yet the reality across most of England is that rogue landlords are getting away with unacceptable, illegal behaviour. Every day at Shelter we see the devastating impact these landlords have on people's lives, with tenants trapped in homes that cause them misery and, in some cases, having their lives put at risk. Thousands more tenants are suffering in silence, holding back from complaining out of fear of the consequences or because they do not feel their voices will be heard.
We need more councils to take a zero tolerance approach to rogue landlords. They must support tenants in their areas by cracking down on the worst offenders as well as proactively promoting the benefits of being a responsible landlord to all in the market. Too many authorities still aren't making the most of the tools at their disposal. Shelter's new best
practice
guide to enforcement, available on our
website
, can help councils work out how to improve their approach. Unless councils urgently take action against this small but highly dangerous minority, tenants will remain at risk.
To find out more about the issues and see how you can get involved visit
shelter.org.uk/evictroguelandlords
Kay Boycott is director of campaigns, policy and communications at
Shelter